THE DAY NURSERY IN PETERBOROUGH ACHIEVES NATIONAL GOOD FOOD AWARD.
The Day Nursery in Peterborough has achieved a prestigious national award in acknowledgement of their commitment to providing outstanding food and food education for children in their care.
By achieving a Soil Association Food for Life Early Years award The Day Nursery has demonstrated they are providing tasty, nutritious meals and an environment that encourages good social skills and healthy choices. They are also supporting the development of good food habits for life through practical cooking and growing activities and food-based learning – both for children and their parents and carers.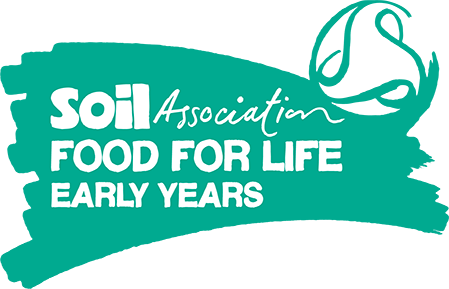 The Early Years Manager at The Day Nursery said:
"It has been a fun challenge for our Nursery Chef, who enthusiastically threw herself into taking part in the wonderful training sessions. The session feedback gave all of us at the nursery further inspiration to get the children into the kitchen much more regularly to learn about food and have a go at cooking. It has been a great opportunity for our Nursery Chef to become more involved with the children's early learning in regards to food. I would also like to thank our Business Manager, for all of her hard work sourcing suitable fresh healthy foods which has helped us complete this accreditation successfully."
Siân Creagh-Osborne, Food for Life Awards Programe Manager added:
"I am incredibly proud of The Day Nursery for their hard work in achieving a Food for Life Early Years award. By meeting all of the criteria they are demonstrating that they are not only providing the nutritious food that plays such a crucial role in a child's development, but are enriching the curriculum through growing and cooking, giving every child in their care the best possible start in life."
As a survey by Food for Life shows that 90% of parents say the provision of healthy food is an important choice factor when selecting an early years provider for their children, I hope the award will be as a useful guide for parents and carers in the process of choosing a nursery, as it verifies The Day Nursery are meeting clearly laid out criteria."